Skincare Products offered at Elavina's Skin Boutique
Elavina Salon and Spa's Skin Boutique offers IMAGE, a clinical skincare brand, powered by safe, proven ingredients and smart botanicals – for your healthiest skin!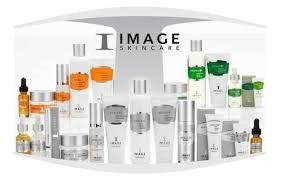 IMAGE NOW. Age later.
These multi-functional products contain the highest levels of active ingredients and are loved – and used – by skincare professionals. IMAGE's Skincare clinical director develops their proprietary formulations to ensure that each one delivers superior effectiveness and real results. Some of these products and treatments are so active, they are only available through a licensed professional.
Because we believe that your skincare regimen should continue at home, Elavina Salon and Spa is happy to offer the following product lines for you to purchase in-salon.
Ageless Line: This regimen helps to treat and prevent fine lines and wrinkles, as well as other signs of aging. The Ageless line uses retinols, lightning agents, and anti-oxidants to help create younger looking skin. This line is great for all skin types.

Vital C Line: The Vital C line is designed for people with dry/dehydrated, rosacea prone, and sensitive skin types. These products are high in anti-oxidants for ultimate protection and nutrition. All of the products are creamy-based, allowing your skin to get the maximum hydration it needs.
Ormedic Line: Ormedic is a medical grade line with the purest organic ingredients. There are no chemicals, acids, or parabens in this line. Ormedic is very gentle, but you still get the clinically-proven results. Formulated to balance, restore, and deliver health to all skin types.
Clear Cell Line: A highly effective acne line that reduces inflammation, (eliminating oils), and purifies the skin. Great for those who work-out or teenage clients.
The Max Line: This line helps to prevent against aging with a blend of plant-derived stem cells to plump up the skin.  It also provides protection against nutritional imbalance, UV damage, and repairs our DNA. The Max can be a great line for all skin types, but mostly it's for those who have sensitive skin and want more of a hydrating anti-aging regimen.
Prevention+ Line: This is your everyday spf line. Prevention+ provides both UVA and UVB protection from the sun. These SPF's are not your typical greasy sunscreen; they are very moisturizing and lightweight on the skin.  Range is from SPF 30 to 50 and you can choose tinted, matte, ultra-protection, and body.
Illuma Line: This line quickly diminishes all forms of pigmentation from sunspots to melasma. Illuma uses powerful ingredients to correct uneven skin tone. All lightening agents are botanical, and can be safely used on all skin types.
I Peel Collection: These are highly effective clinical peels to help treat specific skin conditions. They are customizable and can be enhanced at each treatment. Peels range from mild – advanced. Helps exfoliate the skin as well, giving you a healthy glow. There may also be some mild flaking from the peels, depending on how advanced of a peel you do.
Elavina Salon and Spa has clients from Manchester, Bedford, Amherst, Nashua, and Concord. We offer hairstyling, wedding up styling, hair coloring, hair straightening, and skin treatments. Call us now for an appointment and give yourself a well-deserved day of beauty and pampering. 603.556.4989
IMAGE recommends mixing the lines together.
Get maximum results from combining these
various lines. Every skincare regimen is
customizable for your skin type.
Not sure what is the best choice for you?  Our esthetician would be pleased to consult with you to discuss which line would best meet your needs. For a consultation or appointment, contact Elavina Salon and Spa at 603.232.3448.
The Best In Beauty
Online Booking
Upscale Accommodations
10% Off For All New Clients
Customer-Focused Services
Tranquil, Relaxing Salon Environment
Big City Looks Without Big City Pricing
Trained On All The Latest Trends & Techniques
Hair Care & Skin Care Under One Roof