In-Salon Wedding & Special Occasion Services
Bridal Hairstyling, Wedding Party Hairstyling, and Makeup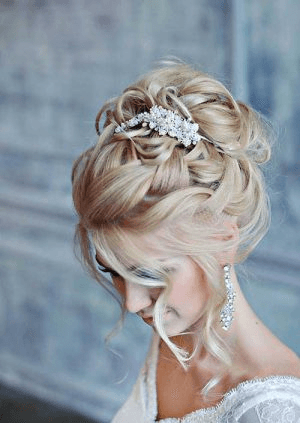 Our bridal hair style specialists in Manchester NH will make every effort to create a memorable and relaxing experience for you and your bridal party. We offer complimentary consultations, and we will work with you to achieve that special look for your big day. We offer add-on services such as manicures, pedicures, facials, and make-up. Customize your own package by choosing from our full range of beauty salon services. Whether you choose in-salon or on-location services, we look forward to working with you and making your wedding day memorable.
Updos are great for other special occasions, like the prom, graduation, girls' night out, ball, gala, bachelorette parties, etc. If you want to look your very best at an upcoming event, then we can help you. Our beauty and hair expertise is devoted to make you look great and feel wonderful. Take a look through our gallery for hairstyling ideas and then contact us today to set up an appointment for a consultation.
Trial Run
Up Style
Hair Braiding
Bride Up style
Bride Makeup
Bridesmaid & Attendants Up style
Bridesmaid & Attendants Blow-dry, Hair Styling
Bridesmaid & Attendants Makeup
Prom Makeup
Strip Eyelash Extensions
Semi-perminent Eyelash Extensions
Click here to download our Bridal Party Contract
Please note that this is a contract that requires a credit card to reserve this service. The complete cost of all bridal party services will be quoted upon completion of the Bridal Party Contract. Prices are subject to change, as you and/or your attendants may change their styling needs (such as adding a service). We require a 50% down payment upon completion of the Bridal Party Contract. The full balance is due a week prior to the event/date of service. We will process the final transaction with the credit card you provide, unless you inform us ahead of time that another form of payment will be used. Should your services run over the quoted amount, your credit card will be charged for the overage. The full fee will be processed for all appointments not kept or changed without a 14 day notice of cancellation. Our new client discount offer does not apply to bridal parties.
Our full-service beauty salon has clients from Manchester, Bedford, Amherst, Nashua, and Concord. We offer hairstyling, wedding up styling, hair coloring, hair straightening, pedicures, manicures, and skin treatments. Call us now for an appointment and give yourself a well-deserved day of beauty and pampering. 603.232.3448