Looking for Haircuts & Other Salon Services Near Manchester, NH?
Our Beauty Experts Can Help You Achieve A New Look
At Elavina Salon and Spa, we offer a full range of elegant salon and spa options aimed at helping our guests look and feel their best. Since 2011, our team of stylists and estheticians has provided treatments and services to men and women of all ages near Manchester, NH, and surrounding areas. Whether you are looking to get a haircut, new style, and color, or any of our professional spa services, our team is committed to taking their time to address any of your concerns. Feel free to browse our gallery to see some of the looks our stylists have achieved. Call us today for more information or to schedule an appointment!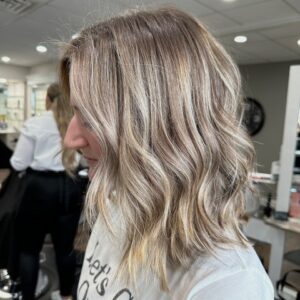 Check Out Our Full Range of Salon Services
The stylists at Elavina Salon and Spa are here to make your vision a reality. Our expert stylists have years of experience helping clients find the perfect style that compliments their natural beauty. From root touch-ups to demineralizing hair treatments, we can make your hair dreams come true. Some of the salon services we offer include:
Pamper Yourself With Our Luxury Skin Services
Our spa is known for providing a wide range of skincare options aimed at improving your skin's complexation, radiance, and beauty. Naturally, our skin can become damaged from the sun, dirt, and bacteria from daily life. When this happens, visiting our spa is a great way to feel beautiful and radiant again. From waxing to facials and dermaplaning, our services can make you look younger and more luminous with our tailored treatments. Some of the skincare treatments we offer include:
Call Elavina Salon and Spa Today!
The professional staff at Elavina Salon and Spa are happy to welcome new guests at our spa. We are dedicated to providing a highly professional, state-of-the-art salon and spa in a warm, relaxing environment. Please reach out to us directly for more information about the services we offer or to schedule an appointment. We look forward to hearing from you!
We do not advertise weddings but may consider the service for clients.
Phone Number:
(603) 232-3448
Hours of Operation:
Sunday: Closed
Monday: Closed
Tuesday: 8:30am – 8:30pm
Wednesday: 8:30am – 8:30pm
Thursday: 8:30am – 8:30pm
Friday: 9am – 5pm
Saturday: 9am – 4pm
Address:
1802 Elm Street
Manchester, NH 03104
Email:
Email:Info@salonelavina.com
The Best In Beauty
COVID Protocols
Lash Studio
Diamond Glow
Unisex
Online Booking
Upscale Accommodations
Customer-Focused Services
Tranquil, Relaxing Salon Environment
Big City Looks Without Big City Pricing
Trained On All The Latest Trends & Techniques
Hair Care & Skin Care Under One Roof