Premier Full Service Hair Salon in Manchester, NH
Elavina Salon & Spa: Exceptional Salon Services in Manchester, NH
Welcome to Elavina Salon & Spa, your premier destination for full-service hair salon experiences in Manchester, NH. Your experienced staff offers a wide range of services including hair styling, color, hair extensions, and more. Our skilled and talented team of stylists is dedicated to providing the highest level of salon service, ensuring that each client leaves our salon feeling pampered, refreshed, and looking their absolute best. Whether you're seeking a transformative new haircut, a revitalizing hair treatment, or a stunning hair color, our professionals are here to help you achieve your dream look.
Our Salon Services
At Elavina Salon & Spa, we pride ourselves on offering a wide range of salon services designed to cater to your every beauty need. We believe that the salon should be an escape from the stresses of everyday life and we strive to create an atmosphere that relaxes and invigorates at the same time. Our expert team is committed to staying up-to-date with the latest trends and techniques, ensuring that you receive the best possible care and results. Our salon services include, but are not limited to: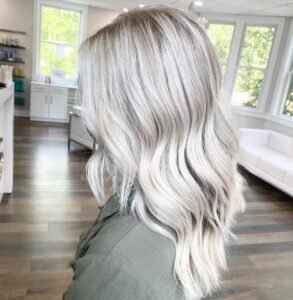 Haircuts and Styling: Our skilled stylists are experienced in cutting and styling all hair types and textures. From classic trims to daring new styles, we can help you find the perfect look to suit your personality and lifestyle.
Hair Coloring: Discover a world of vibrant color possibilities with our professional hair coloring services. From subtle highlights to bold, all-over hair color transformations, our expert colorists will work with you to create a customized look that complements your features and enhances your natural beauty.
Keratin Hair Treatment: Tame frizz and achieve smoother, more manageable hair with our keratin hair treatments. These treatments work by infusing the hair with keratin protein, resulting in a sleek, shiny finish that lasts for weeks.
Hair Treatments: Our range of nourishing hair treatments is designed to target specific hair concerns, such as dryness, damage, or lack of volume. Allow our skilled stylists to recommend the ideal treatment for your hair type and needs, restoring health, shine, and vitality to your locks.
Hair Extensions: Add instant length, volume, or a pop of color to your natural hair with our high-quality hair extension services. Our expert stylists will help you choose the perfect type of extensions for your desired look and ensure they are expertly applied for seamless, natural results.
Why Choose Elavina Salon & Spa?
Our dedication to providing an unparalleled salon experience in Manchester, NH, sets us apart from the rest. Clients trust us for various reasons, including our personalized service, expertise, luxurious atmosphere, and commitment to quality products. At Elavina Salon & Spa, we prioritize getting to know you and understanding your unique beauty needs and preferences. This ensures a truly customized salon experience tailored to your requirements. Moreover, our salon offers a relaxing and comfortable environment where you can unwind and enjoy being pampered by our expert team. We use only the highest-quality hair care products to deliver the best results, maintaining our commitment to quality throughout all aspects of our salon services.
Our goal is to make each client feel comfortable and confident about their appearance by providing them with exceptional customer service as well as quality products that will meet their needs both short-term and long-term. Contact us today if you're looking for a friendly atmosphere where you can relax while getting your hair done then Elavina Salon & Spa is the place for you. Don't wait any longer to experience the Elavina Salon & Spa difference for yourself! Book your next salon appointment today and let our expert team help you achieve your beauty goals, whether you're looking for a stunning new haircut, vibrant hair color, or a rejuvenating hair treatment. Your journey to ultimate beauty and self-confidence starts here.

The Best In Beauty
COVID Protocols
Lash Studio
Diamond Glow
Unisex
Online Booking
Upscale Accommodations
Customer-Focused Services
Tranquil, Relaxing Salon Environment
Big City Looks Without Big City Pricing
Trained On All The Latest Trends & Techniques
Hair Care & Skin Care Under One Roof