Beauty-Enhancing Botox®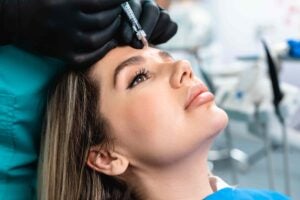 Botulinum Toxin Treatments
Elavina Salon and Spa offers Botulinum Toxin Treatments as part of their medspa treatment options in Manchester, NH. Botox® is a revolutionary cosmetic treatment that reduces the appearance of wrinkles and fine lines, altering the effects of aging and paving the way toward smoother, graceful skin.
This cosmetic treatment is a purified protein softly applied to your desired facial areas in a non-surgical, non-invasive manner.
If you want an FDA-approved treatment that shows results almost instantly, or you want to prevent future signs of aging, this one-of-a-kind treatment is right for you.
Contact Us to Schedule a Consultation Today
What Does Botox® Treat?
If you seek treatment for the following areas, our Botox® treatment can help:
Frown lines
Crow's Feet
Horizontal Forehead Lines
Eyebrow Lift
Bunny Lines
Lip Flip
You may notice results within 24 to 48 hours and full results in 14 days.
What Are the Benefits of Botox®?
Seeking Botulinum treatments is among the most effective ways to treat the effects of wrinkles and aging.
As we get older, the combined effects of aging, stress, and our environment begin to damage and reduce the quality of our skin. These factors result in skin abnormalities, including wrinkles in the forehead, chin, frowning area, lips, and eyes (also known as "crow's feet"). Wrinkles can also occur around the eyebrows.
Botox® treatments reduce the appearance of fine lines and help prevent the formation of new or deeper wrinkles.
Botox® is uniquely helpful for those experiencing the effects of wrinkles and lines. Still, women and men of all ages and skin conditions can use the procedure to treat current wrinkles and lines or prevent them from occurring in the future. Prime candidates that can benefit from this treatment are women ages 25 and up.
Here are the top benefits of this procedure:
Safe: Botox® is FDA-approved and cleared for use, performed by our trusted professional.
Quick: Most treatments take less than 15 minutes, and you may see results within a day.
Comfortable: If you take proper care after treatment, you should be relatively pain-free.
Effective: Treatments can last between three to four months, with appointments every 12 weeks.
What Happens During My Botox® Injections Consultation?
Dr. Tomecka will first meet with you to learn more about your skincare desires. After learning more about what you want for your skin, Dr. Tomecka will then prepare a treatment plan customized to meet your specific needs.
Our goal is to give you smoother, and younger-looking skin that should last between three to four months.

What Botox® Product Do You Use?
Welcome to Jeaveau® from Evolus, the latest and greatest in Modern FDA-approved prescription treatment. The treatment is designed to relax targeted muscles and reduce the effects of aging skin and wrinkles. Contact us today to learn more about this product. Click here for pre and post-treatment instructions.
Is Botox® Cosmetic Right for Me?
Contraindications

Botox® is an excellent solution for existing wrinkles and as a preventative measure; however, certain factors such as health conditions and medications may affect your candidacy. Individuals with myasthenia gravis, ALS (Amyotrophic Lateral Sclerosis/Lou Gehrig's Disease), Eaton-Lambert Syndrome, or progressive muscle weakness disorder are not candidates for Botox® injections. Find out if Botox® is a suitable treatment for you by scheduling a consultation with Dr. Tomecka.

Botox® Cosmetic at Elavina Salon and Spa
We perform our treatments with the utmost care and safety, customizing your treatment plan to fit your precise needs and providing you with your desired look.
Contact Us to Schedule a Consultation Today
About Maggie Tomecka, MD

Dr. Tomecka is a per diem Anesthesiologist working 3-4 days/week at Concord Hospital, Concord NH, and at Southern NH Medical Center, Nashua NH.
Education
Postgraduate: University of North Carolina, Chapel Hill, NC
Graduate: Ross University School of Medicine
Undergraduate:  University of North Carolina, Chapel Hill, NC
Professional Memberships

Member, American Society of Anesthesiologists (ASA)
Member, Virginia Society of Anesthesiologists (VSA)
Tidewater Regional Representative to the VSA
ASA Alternate Delegate from VA in House of Delegates (HOD)
ASA Delegate from VA in HOD
Member, Reference Committee in Scientific Affairs in HOD
Certification and Licensure
Trained and certified in Botox®/neurotoxin injections
Medical License in New Hampshire 2020-present
Board Certified Anesthesiologist 2016-present
Medical License in Virginia 2014-present
Botox® Services Provided by Maggie Tomecka, MD
Maggie Tomecka, MD, is a board-certified anesthesiologist with over 10 years of experience. Dr. Tomecka's specialties include obstetric, regional, and general anesthesia. She is also proficient in trauma and complicated vascular cases.
Trained and certified in BOTOX/neurotoxin injections, Dr. Tomecka's priority is to listen to each client's needs – as your desired outcome is her priority. Her client-focused approach emphasizes safety, compassion, and natural-looking results. A consultation with Dr. Tomecka can help you determine if Botox® is right for you, and if so, she will customize an individual treatment plan that best suits your goals.
The Best In Beauty
COVID Protocols
Lash Studio
Diamond Glow
Unisex
Online Booking
Upscale Accommodations
Customer-Focused Services
Tranquil, Relaxing Salon Environment
Big City Looks Without Big City Pricing
Trained On All The Latest Trends & Techniques
Hair Care & Skin Care Under One Roof