Book Your Hair Care Consultation in Manchester, NH!
Create Your Customized Hair Care Solution at Elavina Salon and Spa!
Are you tired of struggling with unmanageable hair or unsure how to achieve the perfect look? Elavina Salon and Spa in Manchester, NH, has the solution – a hair care consultation. Our talented team of hair care professionals is here to help you transform your hair and boost your confidence. Discover the importance of a hair care consultation at Elavina Salon and Spa and learn how we can create a personalized hair care routine to achieve your hair goals.
The Importance of a Client Consultation
It is often said that the first impression is the most important. Here are the key reasons why client consultation plays a crucial role in hairdressing: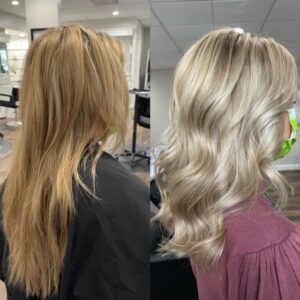 Building the Relationship: At Elavina Salon and Spa, we believe in cultivating a strong relationship with our clients. A hair care consultation is our opportunity to get to know you better, understand your lifestyle, and identify your hair goals. By taking the time to understand your hair care needs and preferences, our team can better provide the extraordinary hair care services and natural hair care products that you deserve. This personalized approach sets us apart and ensures that you receive the best possible care for your hair.
Getting it Right: A hair care consultation ensures that we thoroughly understand your hair type, texture, and any concerns you may have. Our experts will create a tailored hair care routine using the best hair care products, including The Kérastase hair care line, to address your specific needs and help you achieve the look you've always wanted. During the consultation, we will analyze your hair and scalp condition, discuss your past hair care experiences, and consider any chemical treatments or colorings you have had in the past. This comprehensive assessment allows us to make informed recommendations and avoid potential problems that could arise from incompatible treatments or products.
Timing and Cost: A hair care consultation allows us to provide you with an accurate estimate of the time and cost involved in achieving your desired results. This transparency allows you to make informed decisions about your hair care journey, budget accordingly, and ensure that you are fully satisfied with the outcome.
Testing: During the consultation, our team may perform tests to determine your hair's elasticity, porosity, and overall health. This information is essential for recommending the most suitable hair care products and treatments, ensuring optimal results, and maintaining the health of your hair. We may also perform patch tests for color treatments or other chemical services to ensure that you do not experience any adverse reactions. These tests provide an additional level of safety and confidence in our services, allowing you to enjoy your hair transformation without worry.
Questions You Should Be Asking
During your hair care consultation, feel free to ask our experts about the best hair care routine, products, and treatments for your hair type. We're here to help you make informed decisions about your hair care and address any concerns you may have. After your initial consultation, we'll schedule follow-up appointments to monitor your hair's progress, make any necessary adjustments, and ensure that you continue to receive exceptional results. Regular visits to Elavina Salon and Spa will help maintain the health and beauty of your hair, keeping you looking and feeling your best. Some questions you might consider asking include:
What hair care products are best suited for my hair type and concerns?
How often should I have my hair trimmed or treated?
What steps can I take at home to maintain my hair's health and appearance?
Are there any treatments or services you would recommend to improve my hair's condition?
Why Choose Elavina Salon and Spa?
It's time to unlock the secret to beautiful, healthy hair and experience the difference a personalized hair care consultation at Elavina Salon and Spa can make. Don't let unmanageable hair or uncertainties about your hair care routine hold you back any longer. Take the first step towards achieving your hair goals and boosting your confidence by scheduling your hair care consultation with our expert team in Manchester, NH. Ready to embark on your hair transformation journey? Contact us now to book your appointment now, and discover the exceptional services, personalized care, and luxurious environment that sets Elavina Salon and Spa apart. Your dream hair awaits – let us help you make it a reality.
The Best In Beauty
COVID Protocols
Lash Studio
Diamond Glow
Unisex
Online Booking
Upscale Accommodations
Customer-Focused Services
Tranquil, Relaxing Salon Environment
Big City Looks Without Big City Pricing
Trained On All The Latest Trends & Techniques
Hair Care & Skin Care Under One Roof