Unleash Your Diva with Our Luxury Hair Treatment in Manchester, NH
Discover Luxury Hair Treatments at Elavina Salon and Spa
At Elavina Salon and Spa, located in Manchester, NH, we pride ourselves on offering an exceptional range of luxury hair treatments, designed to cater to the unique needs of every client.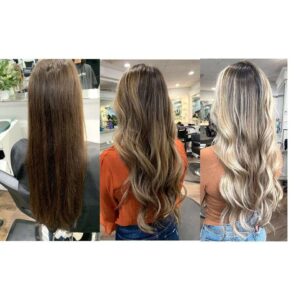 Our experienced stylists use only the finest luxury hair care products and techniques to ensure your hair looks and feel fabulous. We offer several types of luxury hair treatments at our salon, so let's dive into the world of luxury hair!
Types of Hair Treatments
At Elavina Salon and Spa, we offer a diverse range of luxury hair treatments, each designed to cater to specific hair concerns and desires. Some of our most popular treatments include:
Kérastase Hair Treatments: As a certified Kérastase salon, we offer an array of luxury hair treatments using the renowned Kérastase product line. These treatments are customized to target specific hair concerns, such as dryness, damage, or lack of volume. Our expert stylists will assess your hair and recommend the most suitable Kérastase treatment to revitalize and restore your locks.
Specialty Treatments: At Elavina Salon and Spa, we also offer a range of specialty treatments tailored to specific needs, such as hair extensions, scalp treatments, and more. These treatments can help address various concerns, from thinning hair to an irritated scalp.
Why is Hair Treatment Important?
Investing in regular luxury hair treatments is essential for maintaining the health and appearance of your hair. Treatments can help to repair damage caused by heat styling, chemical treatments, and environmental factors. Additionally, they can provide preventative hair care by strengthening your hair and protecting it from future damage. Ultimately, regular hair treatments ensure your locks remain strong, healthy, and beautiful.
Preventative Hair Treatment
Preventative hair treatments are designed to help protect your hair from future damage. At Elavina Salon and Spa, we offer luxury hair care treatments that strengthen and nourish your hair, making it more resilient against potential damage caused by heat styling, chemical treatments, or environmental factors. By investing in regular preventative hair treatments, you can enjoy healthy, vibrant locks for years to come.
Why Choose Elavina Salon and Spa
Investing in luxury hair treatments at Elavina Salon and Spa in Manchester, NH is the key to achieving and maintaining the healthy, gorgeous hair you've always desired. Our wide range of treatments, including Kérastase, Goldwell, smoothing, and specialty treatments, cater to every hair type and concern. With the expertise of our professional stylists and the use of luxury hair care products, you can enjoy the numerous benefits of hair treatments, such as repairing damage, strengthening your hair, and improving manageability.
Now is the perfect time to take the first step toward your dream hair. Contact us and Book an appointment with one of our expert stylists at Elavina Salon and Spa, and let us help you discover the transformative power of luxury hair treatments. Your hair deserves the best, and we're here to provide it. Don't wait any longer – give your hair the care and attention it needs by scheduling your luxury hair treatment today!

The Best In Beauty
COVID Protocols
Lash Studio
Diamond Glow
Unisex
Online Booking
Upscale Accommodations
Customer-Focused Services
Tranquil, Relaxing Salon Environment
Big City Looks Without Big City Pricing
Trained On All The Latest Trends & Techniques
Hair Care & Skin Care Under One Roof