Are You Ready To Get Your Glow On?
DERMAPLANE  $95
A dermaplane facial or treatment will remove dead skin cells and leave your skin feeling soft and smooth
Dermaplaning is the physical exfoliation of the skin, which removes dead skin cells along with vellis hair and leaves you with a brighter smoother surface. It has been a well-kept secret among celebrities for years. So, if you have ever wondered what people are doing to achieve that natural glow, look no further, this is it!
How is a dermaplane facial done?
We use an instrument to gently scrape away the outermost layer of dead skin. We follow that with an application of an AHA/BHA solution to maximize exfoliation. If you want, we can also use a facial mask afterward as well.
What is the result of a dermaplaning treatment?
Your skin will be softer and smoother immediately. We can also combine dermaplaning with facials and chemical peels to maximize the efficacy of the peel. The peel is able to more deeply penetrate the skin after dermaplaning because the surface impurities have been completely removed.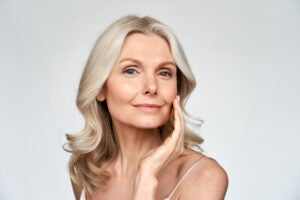 Is dermaplaning safe?
Yes, dermaplaning is very safe when performed by an esthetician trained in this procedure. It is, however, only recommended for the face.
What is the difference between microdermabrasion and dermaplaning?
They are both forms of physical exfoliation, but the methods are different. Microdermabrasion sands and suctions dead skin cells, while dermaplaning safely scrapes off the top layer of skin. Dermaplaning is well suited for drier skin types and anyone who wants to get rid of peach fuzz (and no, hair will not grow back thicker – that's an old wives tale.) Keep in mind that both methods are good for almost everyone and it ultimately just comes down to personal preference. However, dermaplaning is probably your best option if you have sensitive or dry skin.
Will dermaplaning remove wrinkles?
No, this procedure will not get rid of wrinkles or sunspots, but it does remove the top epidermal layer of skin and dead skin cells for a healthy glow!
How much does dermaplaning cost and how long will it last?
We offer 3 options: Dermaplaning with a Facial, Dermaplaning with a Peel, Or a 45-minute Express treatment that includes cleansing and a mask with the service.
Express Treatment
Add to facial or Peel
Dermaplaning last 4-6 weeks and can give you that natural glow that you desire! Interested in a dermaplane facial or peel? Give Elavina Salon & Spa a call today at 603-232-3448 and come enjoy a well-deserved pampering. Our full-service beauty salon and medspa serves clients from Manchester, Bedford, Amherst, Nashua, and Concord.