WAXING
| | |
| --- | --- |
| Eyebrow/Shaping | $22 |
| Lip | $15 |
| Chin | $12 |
| Full Face (lip, chin, brows) | $49 |
| Bikini | $55 |
| Bikini/Full leg | $150 & up |
| Brazilian Bikini | $85 & up |
| Full Leg | $95 & up |
| Half Leg | $50 & up |
| Full Arm | $55 |
| Half Arm | $35 |
| Back | $75 & up |
| Chest | $65 & up |
| Under Arm | $25 |
Top-Notch Hair Removal
Waxing services include eyebrow waxing, bikini waxing, lip waxing, leg waxing, and more in a relaxing environment!
Our waxing salon services have grown in popularity over the years, because shaving just doesn't cut it when it comes to hair removal. Getting a close shave is difficult, and your hair grows back stubbly again within 24 hours anyways. When you use shaving as your primary method of hair removal, it feels like you're constantly worrying about the upkeep. However, when you receive waxing services you don't have to even think about hair removal for four to six weeks! That's why waxing is one of the most popular ways to remove unwanted hair for a semi-permanent length of time. Come give yourself the freedom of not having to worry about hair removal on a daily basis!
Our Manchester NH salon offers a variety of waxing services including eyebrow waxing, lip waxing, bikini waxing, leg waxing, and more! A full list of all of our waxing services can be found below. Whether you're preparing to go on a vacation, prepping for a special event, or simply want to treat yourself to a day of pampering, come experience the relaxing atmosphere at Elavina Salon and Spa!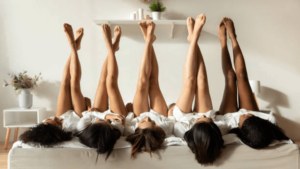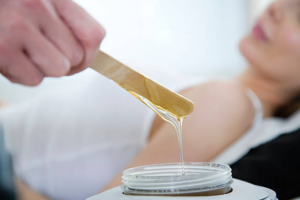 Waxing Services:
Eyebrow Sculpting/Shaping – $22
Lip Waxing – $15
Full Face Waxing – $49
Chin Waxing – $12
Full Arm Waxing – $55
Hand Waxing
Neckline Waxing
Under Arm Waxing – $25
Half Leg Waxing – $50 & up
Full Leg Waxing – $95 & up
Stomach Waxing
Bikini Waxing – $55
Brazilian Bikini Waxing – $85 & up
Full Leg With Bikini Waxing – $150 & up
Men's Services:
If you're looking for waxing salons and services in Manchester NH, look no further! Our full-service beauty salon serves Manchester and surrounding areas, including Bedford, Amherst, Nashua, and Concord. In addition to waxing, we offer hair styling, hair coloring, hair straightening, and skin treatments. Call us now for an appointment and give yourself a well-deserved day of beauty and pampering. 603.232.3448