Boutique Skincare and Medspa Services in Manchester, NH
The Best Skincare Experience
Experience the next level of skincare rejuvenation with Elavina Salon and Spa's services in Manchester, NH. Our cutting-edge treatments are designed to revitalize and tighten your skin, offering a radiant and youthful complexion that reflects your inner vibrance. From non-invasive procedures to personalized skincare regimens, our expert estheticians tailor each experience to address your unique needs. Unveil a fresher, more radiant version of yourself. Schedule your consultation today and embark on a journey to radiant skin that exudes confidence.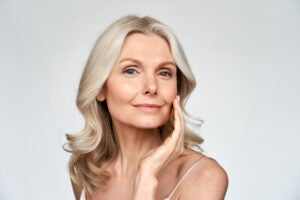 What You Should Know About Medspa Treatments
Medspa treatments at Elavina Salon and Spa encompass a range of non-surgical cosmetic procedures designed to enhance the appearance and address various skin concerns. These treatments include procedures like Botox injections, facial treatments, oxygenating facials, and chemical peels. These medspa treatments aim to improve skin texture, reduce signs of aging, and enhance facial features. Some treatments, like DiamondGlow, can even extract, exfoliate, and infuse serums into the skin all at once!  It's essential to consult with a qualified and experienced esthetician before undergoing any procedure, ensuring that the chosen treatment aligns with your goals and medical history. Transparency, realistic expectations, and a personalized approach are fundamental for achieving safe and satisfactory results.
Advantages of A Boutique Skincare Services Provider
There are many advantages to going to a boutique skincare services provider. We collectively contribute to a more personalized, attentive, and fulfilling experience, including:
Personalized Attention – We offer individualized care, taking the time to understand your specific needs, preferences, and goals, resulting in a tailored experience.
Customized Treatments – Services are designed to address your unique concerns, with treatments customized to target your specific skin type, issues, and desired outcomes.
Focused Atmosphere – The intimate setting of our Manchester salon and spa creates a cozy and inviting ambiance, fostering a sense of comfort and relaxation.
Stronger Relationships – A smaller scale allows for closer connections with staff, fostering a sense of trust, familiarity, and better communication.
Attention to Detail – With a focus on individualized care, we pay meticulous attention to every aspect of your experience, ensuring your needs are precisely met.
Innovation and Expertise – We stay at the forefront of the industry by offering cutting-edge treatments and specialized experiences that you cannot get anywhere else.
Flexible Scheduling – Our smaller client base translates to more flexible scheduling options and accommodating appointment times.
Tailored Recommendations – Staff can provide specific product recommendations and skincare routines that align with your individual needs and treatment goals.
What Skincare Treatments Can Do For You
Our skincare treatments offer a spectrum of non-surgical procedures that can address various cosmetic concerns. These treatments can help reduce the appearance of wrinkles, fine lines, and age spots, improve skin texture, enhance facial contours, and target specific issues like acne scars or hyperpigmentation. Medspa treatments can also provide a refreshed and youthful appearance by promoting collagen production and rejuvenating the skin's overall health. With the guidance of a skilled esthetician, these procedures can be tailored to your unique needs and goals, helping you achieve natural-looking enhancements and renewed confidence without the need for surgery.
Contact Elavina Salon and Spa Today
Discover the secret to radiant, youthful skin with Elavina Salon and Spa's transformative skincare and medspa services. Our advanced treatments are designed to rejuvenate and tighten your skin, enhancing natural beauty. Ready to unveil a more confident and revitalized you? Schedule your consultation today and embark on a journey to radiant skin that reflects your inner vibrance.

The Best In Beauty
COVID Protocols
Lash Studio
Diamond Glow
Unisex
Online Booking
Upscale Accommodations
Customer-Focused Services
Tranquil, Relaxing Salon Environment
Big City Looks Without Big City Pricing
Trained On All The Latest Trends & Techniques
Hair Care & Skin Care Under One Roof