LASHES
| | |
| --- | --- |
| Eyelash Tint | $30 |
| Eyelash Lift & Tint | $105 |
| Eyelash/Eyebrow Tint | $50 |
| | |
---
EYELASH EXTENSIONS
| | |
| --- | --- |
| Classic Full Set | $200 |
| Fill (2 Week) | $65 |
| Fill (3 Week) | $80 |
| Hybrid Full Set | $250+ |
| Fill (2 Week) | $70 |
| Fill (3week) | $90 |
| Volume Full Set | $280+ |
| Fill (2 Week) | $75 |
| Fill (3 Week) | $90 |
| | |
| Lash Removal | $35 |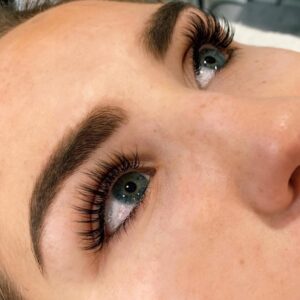 Eye Lashes
Lash Extensions, Lash Lifting & Lash Tinting
Elavina Salon and Spa are here to provide you with the most beautiful eyelashes in Bedford, NH, Manchester, NH, and the surrounding area. Whether you want to make your lashes appear longer or enjoy the ultimate curve, we offer a range of lash services to boost your beauty. We can take care of your lifting needs in one session that takes less than an hour to complete, sending you off with a head-turning lift you love for weeks.
Types of Lash Services by Elavina Salon and Spa
Your beauty and rejuvenation are our top priorities, and that extends to the health and wellness of your lashes.
We provide lash extensions for longer, bolder lashes that match the color and thickness of your naturals. If you want to curve your straight lashes or darken them for a richer look, our lifting and tinting services are right for you.
Experience the top-tier lash beauty services we have to offer you:
Lash Extensions: Our specialists are equipped to give you the curviest and most lush extension for your lashes. We evaluate your natural lashes based on your length and thickness, and we select the perfect extensions based on your unique style.
Lash Lifting: If you want a delicate, graceful curl with minimal effort, our team is here to meet your needs. We'll take your straight lashes and give them a specially designed curl that suits your eye shape, as well as your other facial features.
Lash Tinting: Do you want to add depth and exceptional quality to your light-colored lashes? Our tinting service is here to deliver. We'll darken your lashes for a bold style bound to turn heads. Plus, tinting is more manageable than applying makeup every day.
What is the Lash Lifting Procedure?
A lash lift provides a curve to your natural straightened lashes. Lifting your lashes is perfect for you if you dislike the feeling of falsies lashes or you are hesitant about lifting extensions.
Our lash experts will carefully evaluate your eye shape and the rest of your face during your appointment to determine what type of curve is suitable for you. Whether your eyes deserve a subtle or an ultra-luscious curve, we have the tools and capabilities to provide your ideal style.
We'll gently apply the rod and the adhesive to your lashes, softly curving up until they've reached your preferred curving point.
If requested, you can pair your lift with a lash tint, providing a darker color to compliment your new curve.
A typical lash curve procedure takes less than an hour to complete, and your treatment should last between four and six weeks.
You may resume saunas and pool activity a day after you receive your treatment, and you can apply mascara if desired.
Lash lifts are safe for your natural lashes. Best of all, the treatment is pain-free for your total comfort.
What Can I Do After My Eyelash Lifting?
Your eyes and face must remain makeup and product-free for a period. We recommend consulting with us to learn more about what you can do after your treatment:
Use gently foaming facial cleansers three or more days after receiving your treatment.
If you want to use serums after three or more days, make sure they are oil-free.
After three or more days, feel free to brush your lashes to maintain their shape softly.
What Not to Do After My Eye Lash Lifting
If you want to achieve the best results for your lift and prevent damage, you need to avoid doing the following activities:
Don't wear mascara or eye makeup for 24 hours after receiving your treatment.
Refrain from wearing contact lenses and use your eyeglasses with extreme caution.
Do not sleep on your face. Make sure to sleep on your side or back to keep your lashes safe.
Abstain from swimming, using saunas, sweating, or rubbing your eyes with water.
Do not use oil-based cleaners and skin products on your face. Ensure they're oil-free.
Beauty Creation Lashes at Elavina Salon and Spa
If you want elegant and long-lasting lashes that give you the curve and length you've always desired, we're for you. Our passionate and trained estheticians will consult with you about your beauty needs, forming an effective beauty plan to achieve your perfect look.
Contact Us to Request an Appointment
The Best In Beauty
COVID Protocols
Lash Studio
Diamond Glow
Unisex
Online Booking
Upscale Accommodations
Customer-Focused Services
Tranquil, Relaxing Salon Environment
Big City Looks Without Big City Pricing
Trained On All The Latest Trends & Techniques
Hair Care & Skin Care Under One Roof