Luxury Hair Treatments In Manchester
Our in salon hair treatments will leave your hair feeling healthy and looking gorgeous!
Luxury hair treatments are offered at our NH salon! Is your hair looking dry and dull? This could be due to chemical and/or mineral build up. Let us restore shine to your locks! Whether you are interested in a demineralizing hair treatment or a Kérastase treatment, we can have your hair looking healthy and beautiful! Our different types of luxury hair treatments include:
Kérastase Fusio-Dose Treatments – $37
Fusio Treatment With Add On Mask – $45
Fusio-Dose is an in-salon treatment that will be personalized for your hair's unique needs. It instantly transforms your hair it leaving it soft, shiny, and healthy. These conditioning treatments are designed to treat all sorts of hair concerns such as dry, lifeless, or hair lacking shine or volume. They work by fusing together highly concentrated doses of active Kérastase ingredients. Our expert stylists will help determine which treatment is best for your hair.
Olaplex / Goldwell Bond Pro – $45
These treatments are labeled a "bond multiplier" which dramatically eliminates breakage from or during a chemical service leaving the hair in better condition.
Demineralizing Hair Treatment – $37
This in-salon treatment is applied to wet hair at the sink to remove build-up, minerals, and chlorine from your hair. Depending on the severity of the build-up, the processing time is 15-45 minutes under the dryer.
* If single service, blow dry is an additional cost.
For luxury hair treatments in NH, including demineralizing and Kérastase treatments, come relax at Elavína Salon and Spa. We serve clients from Manchester, Bedford, Amherst, Nashua, and Concord. In addition to luxury hair treatments, we offer hair coloring, styling, and straightening, as well as skin treatments. Call us now for an appointment and give yourself a well-deserved day of beauty and pampering. 603-232-3448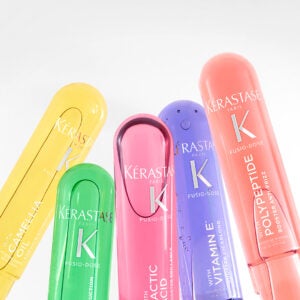 The Best In Beauty
COVID Protocols
Lash Studio
Diamond Glow
Unisex
Online Booking
Upscale Accommodations
Customer-Focused Services
Tranquil, Relaxing Salon Environment
Big City Looks Without Big City Pricing
Trained On All The Latest Trends & Techniques
Hair Care & Skin Care Under One Roof